WolfWood is a state and federally licensed non-profit refuge for wolves and wolf/dogs. We provide a safe haven and the highest quality of life possible for these special needs animals.
We are engaged in rescue and rehabilitation, not breeding and selling. We work with other animal organizations around the country to save wolves and wolf/dogs that otherwise would die.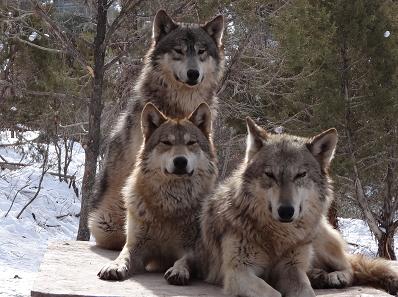 Visit our SHOP page to order yours.
Our most popular item, now in Stock for 2022. Next year's Calendar features cover girl Xena along with Akula, Valkyria, Samoa, Nyx, Razi, Danu, Wile E, Ginger, Liri, Archie, Albion, Chica and a special remembrance page recognizing the special animals that left us this year and joined the Forever Pack..
Ipo Will be Missed
WolfWood has been in La Plata County for 20 years. When you rescue animals for that long, and you do a good job at it, the animals can live to an old age. Most of our population is elderly. It has been a hard year of loss for the Refuge. This has taken an emotional toll on everyone
We considered not making public announcements when we lose an animal, however we want to honor their memories and respect the right for our supporters and friends to be included in all that goes on at WolfWood. Both the happy and the sad.
Sadly, we've lost another one of our long term residents. Ipo passed in the night. She lived with Aspen and we have had her since she arrived as a sick little puppy. Ipo was shy, but tough. She survived a rattlesnake bite last year and loved to run and play. We add her to the list of animals for whom we are grieving.