WolfWood is a state and federally licensed non-profit refuge for wolves and wolf/dogs. We provide a safe haven and the highest quality of life possible for these special needs animals.
We are engaged in rescue and rehabilitation, not breeding and selling. We work with other animal organizations around the country to save wolves and wolf/dogs that otherwise would die.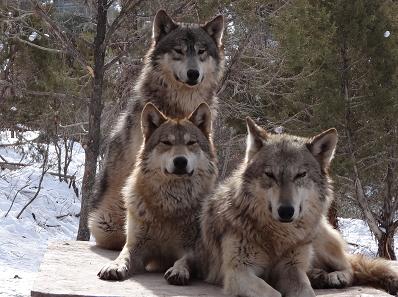 Dear Friends of WolfWood,
We are highly encouraging people to either attend a public meeting, a virtual one or submit written comments so your voice is heard on the draft plan by CPW to manage the wolf reintroduction. We have until Feb 22nd to get our written comments in. It is crucial that people participate in the  process. The finalized plan will be submitted in May.
I would encourage you to read the plan to form your opinions, however if you would like talking points examples are posted below. Even if you didn't vote for reintroduction, you can help now that it is happening by taking some time to use your voice to help the commission come to the best possible plan for all.
This Matters,
Paula
How to Comment on Colorado's
Draft Wolf Plan
Wild Earth Guardians Talking Points for
Colorado Wolf Plan
Draft Colorado Wolf Restoration and Management Plan Suggested Comments
February is our winter break.
Tours will resume in March.
Dear WolfWood supporters,
Amazon will wind down it's Amazon Smile Program on
February 20, 2023 and will find other ways to invest in Non-profits.
We want to thank everyone who participated in the program. Your support makes saving lives possible. 
Should you wish, you can always donate to WolfWood through the link at the top of this page.