WolfWood is a state and federally licensed non-profit refuge for wolves and wolf/dogs. We provide a safe haven and the highest quality of life possible for these special needs animals.
We are engaged in rescue and rehabilitation, not breeding and selling. We work with other animal organizations around the country to save wolves and wolf/dogs that otherwise would die.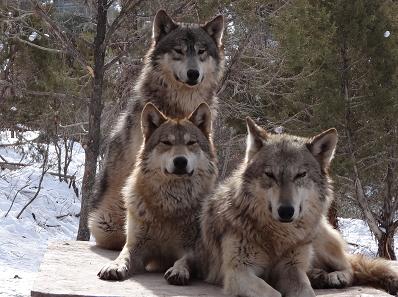 Visit our SHOP page to order yours.
Our most popular item, now in Stock for 2022. Next year's Calendar features cover girl Xena along with Akula, Valkyria, Samoa, Nyx, Razi, Danu, Wile E, Ginger, Liri, Archie, Albion, Chica and a special remembrance page recognizing the special animals that left us this year and joined the Forever Pack..
Meet Harlow
Harlow came to us from Cortez and makes an excellent companion animal for Aretha. She arrived the night of a huge storm that washed out part of the road to WolfWood. Harlow is sweet, playful and quite the water dog, enjoying her pool in season. She is practicing for co-guard dog duty with Gideon.