Featured Wolf | Ambassador Wolves | Other Wolves | The Alaska 9 | Departed Members | Cassidy & the Oakland 6
Forever members of the pack
"We will be known forever by the tracks we leave." - Dakota Sioux
Banshee (June 2023)

Sadly, we have lost the 7th member of the Alaska 9 pack.

Everyone who has been involved with the refuge in the last 12 years knows about the "B" girls. Bruja and Banshee were sisters that were a force to be reckoned with. They have been a bonded pair their whole life, in a way that gives the word loyalty a whole new meaning.

When the pack lost Oakley, the alpha, the girls banded together tighter than ever. They were separated from the boys because of Banshee's diminishing mobility, and the disintegration of the pack.

As they aged, Banshee had more trouble walking because of nerve degeneration. She was getting increasingly more irritated with Bruja. It came to a point that we had exhausted all our medical options. After a particularly bad week of watching her struggle and fall, we all agreed it was time. Banshee went peacefully and quickly in the arms of her human brother, Ben. 

The wolves teach us lessons. Every day. Part of our grief, when we loose an animal, is witnessing the grief of their animal companions. They teach us about love. They teach us about honor and respect. They teach us how to grieve and let go.

We will miss Banshee in a way that is hard to explain. She is woven into the fabric of WolfWood's history, the stories that we tell. We will miss her. We will not forget. - Paula

Izzy (May 2023)

Izzy:

WolfWood recently said goodbye to the loveable, playful, spirited Izzy. 12 year old Izzy came to WolfWood in September of 2022 and shortly after was diagnosed with an inoperable, fast growing tumor. We thought we would only have a month or two with her and we were blessed to have her for almost 8 months. Izzy was a shy animal who had lived most of her life as a stray and was quite pleased to get daily treats and live the last days of her life in "luxury".

Izzy loved to howl when the rest of the hill howled and would also "shriek" for her multiple snacks throughout the day. She loved playing through the fence with her neighbors Paloma and Albion and would nap next to them on the cooler days. She enjoyed spending time on her cushy blankets and awaiting her human servants with the next batch of goodies (we spoiled her extra knowing she only had a short time left)! Though she never really wanted to be petted she would "dolphin nose" a few of us when we were most unsuspecting. Izzy was a determined, sweet, ornery, loving girl who will be greatly missed.

Vesta and TJ (Jan 2023)

Vesta and TJ: (by Emily Rikard)

At the beginning of the month Wolfwood said goodbye to two of the longest term residents, Vesta and TJ.

15 years is a long time for a resident of Wolfwood to be around. And although TJ and Vesta may have been "just dogs," their presence was a staple at Wolfwood for that long. One evening 15 years ago Paula was contacted by a good Samaritan in Walsenburg, Colorado about a starving dog and her puppies detained by animal control. The mother was set to be euthanized the next morning. The timeframe Wolfwood had to get to the mother and puppies before the euthanasia was just about impossible to work with. Just about. A midnight, high speed run was made and someone on the inside at the Walsenburg animal control building made it possible for the rescue to even happen.

When Vesta was rescued, she was so starved she could barely even stand. She was breaking down her own body to continue to feed her nine puppies. A weaker dog wouldn't have survived, or would have given up on her puppies in favor of self-preservation. But not Vesta. Anyone who knew Vesta knew she was strong willed and defiant. Giving up was never and option for her.

Once at Wolfwood, Vesta and her offspring had the opportunity to flourish. They were a rowdy bunch and Vesta kept them all in line. When the puppies were old enough to be separated from Vesta, seven of them were adopted out. The remaining two were thought to be difficult placements in a home. This included Druid, who was the shiest of the bunch, and TJ, who at the time was extremely rambunctious. It took Vesta over a year to fully recover from the poor medical condition she was rescued in, so rehoming her was never an option. Instead she got to live with two of the puppies she fought so hard to keep alive.

Druid had to be let go last winter due to cancer, TJ got to live with his mom until the very end.

Despite his rowdy start, TJ mellowed out into a sweet and calm demeanored guy. Of the Vesta pack, he was the sweetest. Over the past year it became clear that TJ was starting to fade mentally. Despite this he never lost his positive attitude or desire to soak up attention from any volunteer who visited him. Once TJ started to struggle to move around in his enclosure, it was determined that it was time to let him go. He was 15.

Vesta was still full of the attitude she had always been known for, and her pure determination would have fooled anyone that she could live forever. Her body was deteriorating though and our vet confirmed what we had all suspected, it was time. At the incredible age of 17, Vesta moved onto the next life with her son. Now she is reunited with all nine of her puppies and is no doubt back to keeping them all in line.

Vesta is in the foreground of this picture and TJ is in the back.

Kweo (Aug 2022)

Kweo: (by Emily Rikard)

Wolfwood had to say goodbye to Kweo, the last male wolf of the Alaska 9 pack. Kweo stood out from the rest with how starkly black his coat was and how it remained so dark even into old age. Of the original nine wolves that made up Oakley's pack, Kweo was one of the shier animals. To the casual visitor or volunteer he was standoffish and would often chuff to signal his nervous demeanor. He gave people a more accurate representation of what it might be like to see a wolf in the wild since he was always the one to hang back and watch new visitors from a distance while his packmates soaked up attention through the fence during tours.

Before Oakley passed away there was another more secret affectionate side to Kweo that only a select few people got to experience. It had less to do with who you were and more to do with when you were interacting with the pack. Kweo was always nervous around large groups, as most normal wolves are, but when his most trusted human Ben and one or two volunteers would sit in the pen for a while, they might get lucky enough to be blessed with Kweo's affection. He was somewhat of an armpit nibbler in his prime. Even if he didn't always want to be pet in return, he would sit nearby and bask in the ambiance of his family and chosen people.

Paula always thought that Kweo would have been an alpha if he had been born in the wild. He had the right personality for it, but the pack didn't choose their alpha based on skill as wolves in the wild need to do. Since they were all babies at the same time, they looked to the biggest one to lead them, and that was Oakley.

Once Oakley left the pack unexpectedly, dynamics shifted and the pack inevitably had to be split apart. They didn't know how to resolve disagreements peacefully anymore without their leader to guide the way. This is common among captive and wild packs when they lose their alpha. Kweo lived with his brother Falcon for a time with his sisters Bruja and Banshee nearby, separated only by a fence. At this point Kweo became more reserved, preferring the company of only those he knew best. Once Falcon passed away, Kweo moved in with his sister Ginger, one of the nine who had been dispersed at the age of two because of conflict between two alpha female personalities. Even though it had been nearly eight years since the two had lived together, they recognized each other instantly and were overjoyed to be reunited. He was far more reserved when he lived with Ginger, choosing only to engage with people from a distance, but he was content.

Kweo and Falcon are brothers and are the only members of the 9-pack with black fur. Kweo started out as a shy puppy but has lost that shyness. He will be right up front greeting visitors to the enclosure although he won't be as insistent as Torq for getting pets and attention. He tends to be very gentle.

Kweo loves to enjoy the sun while resting on top of the various wolf houses. If the other wolves are playing around, Kweo is often content to watch and take in the sunshine.d
Kweo seems to be the most photographed wolf at the Refuge. It may be his coloring, his calm demeanor or his willingness to stay in one place for more than a second. But everyone agrees, it is hard to get a bad picture of Kweo.

Now he runs with his brothers Oakley, Torq, Falcon, and Billy as well as his sister Sita on the other side. I'm sure they're all happy to see each other again.

For more of Kweo's story as part of the Alaska 9 click here

Dante (July 2022)

Dante: (by Emily Rikard)

Wolfwood lost one of its pack members unexpectedly due to an unknown cause. Dante was nine years old, which for a large canine like him is within the age range that we can lose animals due to complications from old age. However, the loss was not one anyone was prepared for.

Dante was beloved by many volunteers and caretakers alike. I often lovingly referred to him as the jock or the frat boy of the refuge. He was athletic and always down for a good time.

He spent a majority of his nine years at the refuge with Stella, who passed away earlier this year, also unexpectedly. Upon her loss, Dante was inconsolable. He'd spend day and night pacing and crying, longing to have his best friend back. It was heartbreaking to watch.

Eventually Dante did find solace in Tala, one of our senior wolf residents. Their connection was instant when they were introduced and he spent his last several months bonding with her. He rediscovered joy in life.

Dante's passing struck everyone deeply. But at least some consolation can be found in the fact that now he is reunited with his deepest love, Stella.

Dante joined the Wolfwood Pack in July of 2014 when he was less than one year old. He came from Aztec NM when his owner passed away.

He was very skinny, had parasites and a bacterial infection when he arrived. However, after his vet visit he was given shots and medication and is getting healthier every day. He is a large animal and is in a new pen with Tala.

Siku (July 2022)

Wolfwood recently had to say goodbye to the oldest member of our pack. Siku's age finally caught up to her as she passed not long after the loss of her latest pen mate, Jill. She was 17.

Siku came to us in March of 2009 from a private home. She was one of the more shy and laid back animals at the Refuge and was incredibly gentle and loving to those who spent time with her. Her passion for life was truly contagious and she always played with the energy of a puppy, even in her later years.

As the years caught up to her and after the passing of her pen mate, Storm, Siku moved in with Jill, another of our elder residents. The two were loving known as the "golden girls" as they lived out the rest of their lives together, moving on within mere months of each other.

Siku came to Wolfwood from Farmington, NM as a one-year old. Her owner had to move due to his job and couldn't keep her. She is a shy, submissive animal and will allow you to approach her if she likes you.

She lived many of her younger years with Orley until his passing in 2018.

Siku will be deeply missed by all who knew her, her gentle spirit never to be forgotten.

Jill (May 2022)

Jill was a medium percentage wolfdog who came to the Refuge in January 2014. Her age ass not known but she appeared to be a middle-aged animal. Both Jill and Kodiak came from the same sordid situation where 130 animals were stacked in airline crates, on top of each other, in a warehouse. The abhorrent details can be found here.

Nothing is known about Jill from her time before the rescue. She was scared and skittish when we first picked her up. Jill appears to have had some muscle atrophy from her time in the crate and may have some skeletal damage. She was an energetic, playful animal and she was happy at the Refuge. As with many of our animals, physical rehab was a priority with her.

Jill lived with Kodiak. They have both passed on, surrounded by people who loved them. They have room to throw back their heads and sing with the other animals that have found a home in the Forever Pack at Wolfwood Refuge.
Goblin (February 2022)


Goblin came to Wolfwood during October 2016 from the LaPlata County Humane Society along with Sienna. They had been running loose and were taken to the Humane Society. We believe that Goblin is Sienna's son. They are very bonded and the Humane Society asked if we could take both to give them a loving and safe environment where they could stay together.

Goblin had dental issues when he arrived at the Humane Society so he was very thin from not eating. The Humane Society had dental surgery done on him and he is fine. He quickly gained back the weight he had lost.

Nothing is known about Goblin's time before the Humane Society took them in. We estimate that he was about 4 years old when he arrived. Goblin and Sienna remain together.


Stella (January 2022)




Stella was a sweet andloving girl. She came to us in 2013 from a private party in NM. Stella was an active and happy animal and it was a shock to lose her to liver failure at the age of 10. Visitors often got kisses from Stella from the top of her dog house.

Her pen mate, Dante, is inconsolable. We will try to find him a new friend as soon as possible, however it is very clear that no one can take the place of Stella.

Druid (December 2021)


Druid was one of our older animals. He was almost 14 when he passed away from cancer. He has lived here at WolfWood since he was 6 weeks old. He lived with his mother, Vesta, and his brother TJ. 

Vesta and her puppies were rescued from Walsenburg where they were in a very bad situation. It took an emergency midnight run to rescue them. Vesta was so weak she could not even get in and out of the truck. It took a year of rehabilitation, but the small pack of 3 that called WolfWood home went on to live happy and healthy lives. 

Druid was the shy one of the pack and was very attached to his mom. We will miss his interactions and antics every day.

Ipo (November 2021)


We've lost another one of our long term residents. Ipo passed in the night. She lived with Aspen and we have had her since she arrived as a sick little puppy. Ipo was shy, but tough. She survived a rattlesnake bite last year and loved to run and play. We add her to the list of animals for whom we are grieving.

Ipo came to Wolfwood in April of 2012 as a 12 week old, little female. She was very sweet and extremely shy. She was in the Aztec NM shelter when they contacted us. We agreed to take her, but she developed a respiratory infection and it took a while to get better. When she got better she came to live with us. She was only 3 months old and very scared. She has really grown and now livesd first with Justice. and then with Aspen. Ipo was always shy with people and hide n her house sometimes, but that's ok. We loved her and were glad she was safe.

Billy the Kid (October 2021)


One of the most difficult parts of rescue is dealing with the loss of the animals we love so deeply. Over a third of our animals are over 12 and we know we will continue to experience loss. As the animals and humans mourn we also celebrate the lives of the animals and the joy they had and were able to pass on to so many people. Without the compassion and generosity of so many people, many of the animals would not have been given the chance for such a good life.  Every animal we have lost leaves their tracks in our hearts.

Sadly we have lost yet another member of the Alaska nine pack.

Billy passed away from cancer. He and Ginger lived in their beautiful enclosure towards the back of the refuge. Billy was a big beautiful male and was one of the most photographed wolves at WolfWood. He and Ginger were famous for their very large den and their elusiveness. Billy loved his forest and took full advantage of the trees and terrain in his enclosure. He will be missed by everyone who was lucky enough to interact with him. 

For more of Billy's story as part of the Alaska 9 click here

In a few weeks we will attempt to put Kweo in with Ginger and see how they do.

Apollo (August 2021) by Michelle


Wolfwood has lost a precious soul. Apollo was a great round bear of a wolf-dog who loved his friends and his food. He was sadly young - just eight - but suffered from an inoperable tumor. His pen mate was Abra, and he was her faithful companion despite her shyness. He was beloved by those who knew him, with a wonderful howling greeting when a friend approached.

Apollo loved his food. He and Abra had to be fed last because she is so shy that the crew of volunteers had to be down the hill before the two of them would get their bowls (at a distance from each other). Otherwise, he would clean his bowl and head directly for hers. This afforded his friends a blessed opportunity for quality time with him while awaiting work up the hill to be completed.

Funnily enough, while a bit of a food-a-holic, he was very picky about his treats. He would sniff and dismiss most offered. As his friends sat with him, however, he eagerly sought a scratch behind his ears, a tummy rub, or a hug. You left Apollo feeling loved.

Smokey (August 2021) by Paula

Smokey is the real reason that WolfWood is important. Smokey was a shepherd/wolf dog who was very shy and apprehensive. He was not an ambassador and never interacted with the public. He did not like to be touched but he was loved from afar by many. Smokey was representative of all the hurt and abused animals out there in the world in need of our help. Smokey needed to be saved and so did we.

Smokey came to us in 2011 at 2 years old. He loved his treats and he loved Chica, his penmate. He was a big healthy animal until the night he died at 12 years old. Smokey was happy running with Chica, soaking up the sun on his dog house roof and participating in group howls. In short, he loved his life at WolfWood. He was not fond of people in general but he did not need to be. He lived his life because he got a chance to, here with us. Like all of our animals he had a presence that was uniquely his and we will all miss him.

Smokey was a high-percentage wolf/dog who came to the Refuge when he was a puppy. His owner had dropped him off at a humane society and left no information about him other than to say he was a German Shepherd. As he grew, it became obvious that he was not a German Shepherd. The humane society gave us a call saying they had a wolf/dog and we picked him up. He is very shy around people and lived with Chica.

Ra (July 2021) by Jeanette

Wolfwood has lost an angel. Our beloved Ra passed away Thursday morning. Age had taken its toll on our big boy. He passed with Paula at his side. Paula Woerner's heart is broken, as he was truly her boy. She was the only mom he had ever known.

Here is Ra's story from Jeanette Metzner who was lucky enough to have been there for some of the early days of Ra's life at the refuge.

Ra came to the refuge in the summer of 2009 as a very sickly and scared baby wolf. He and his sister Tala came from an illegal breeder in Alaska. They were both in very poor health when they arrived. The breeder had taken them away from their mother at a very young age because he believed the myth that in doing so, they would bond with humans instead. They were chained and fed a horrible diet. Ra had a severe under bite and Tala, due to her malnourishment, was very small. The breeder deemed them not sellable. Some friends of Wolfwood who were in Alaska at the time stepped in and secured their release. They were flown to Albuquerque airport where Paula and Craig picked them up.

Paula had been told it was two females, and that they had their health checks before flying. What they found was a scared, growling black male and a tiny grey female. Ra's name comes from both the Egyptian sun God and the fact that all you heard coming from that kennel, was "Ra!!" He was terrified.

Tala's first night with Wolfwood was almost her last. She started running a fever and was quickly rushed to the vet. She had an upper respiratory infection and was severely dehydrated. She was admitted and put on an IV of antibiotics and fluids to rehydrate her little body. The vet wasn't sure she would pull through.

That left Ra in the care of strangers without his sister. He was a fear bitter from the start. It was the only way he knew to protect himself. Even baby wolves have a very strong bite. Brian Clark and I sat with him trying to comfort him, wearing bite gloves. We realized the bite gloves were making it worse. Ra associated the gloves with humans trying to touch him. Brian took them off and threw them over the fence. It calmed him just a little. He at least saw the bad things that grabbed him go away. He stopped snapping his jaws at us. Then Brian told him something that sticks with me to this day, "Don't worry boy. You're going to live in a place where you will never have to be afraid again."

Ra and Tala had to be put in the hospital pen at the refuge. They not only were sick from neglect, they also needed to have their shots. You can't risk making the other animals sick.

Ra needed a mom. Paula didn't have an alpha female at the refuge capable of raising puppies. Wolves need to be taught how to be a wolf. How to hunt. How to play without hurting your siblings, etc. Tala was the playful pup who just wanted to roughhouse. Ra was afraid of the world. Paula knew she was going to have to fill the role of Ra's mom. It would not be easy. He didn't trust anyone.

We built a temporary enclosure attached to the hospital pen. The pups were growing. Paula was spending every day gaining the pups trust. Especially Ra. He would not be won over easily. The humans he dealt with before coming to Wolfwood had only caused him pain. The day we built the temporary pen, I got to witness the moment Ra decided Paula was his mom. We were sitting on the ground watching them play. Suddenly Ra came over and laid in Paula's lap. He then crawled up and laid his head on her chest. That was it. He made the decision in that moment, this was his mom. I was lucky enough to be there and captured that moment with a photo.

While the new babies were spending time in their temporary enclosure, plans were made to build what would be Wolfwood's largest enclosure (at that time). When it was finished, watching this growing boy and his sister be able to run and play was pure joy. Ra was the king of his world.

Ra would travel with Wolfwood to events as an ambassador. He was turning silver as he grew. Black wolves often do. We had to put signs on his travel enclosure telling people not to touch. Not because he was the big bad wolf but because he was still a fear bitter. There were few humans in this world that Ra trusted. If you were lucky enough to watch him with Paula, it was pure love. He needed to know she was there. His world was okay as long as mom was there to reassure him. He learned to trust some of the other volunteers over the years. Elizabeth K Lawyer was one. When Paula wasn't there he would allow her and Joel to enter his enclosure to feed and care for him. But there was only one mom.

This tribute to Ra is also a tribute to Paula. If not for her love and patience Ra would not have had the wonderful life at the refuge he did. It was pure joy to watch him roll on his back for belly rubs from her. He was not the big bad wolf of myth. He was just a scared boy who needed his mom.

The promise Brian made to Ra as a scared little pup was kept. He lived life as the king of his domain. He had a large enclosure to run and play with his sister, Tala. He had plenty of food. He had the safety of the refuge itself. Everyone loved Ra. Most of all, Ra had what he longed for. A mom who loved him with all her heart. They had a very special bond.

I have paintings, photos, videos and especially memories of Ra. He meant a lot to me. I also loved him with all my heart. I hope he knew.

Our hearts are broken. But, we take comfort in knowing that Ra lived his best life at the refuge. For a pup that started out his life in such horror, he went on to become one loved and admired by everyone who knew him. He was special and we will all miss him greatly. I want to thank Craig Watson, Keith Lawyer, Brian Clark, Elizabeth K Lawyer, Tanya Roth and many other volunteers. But, most of all, Paula Woerner. They gave Ra a beautiful life

Kodiak (July 2021) by Emily

Photos by Ashley Weims

Wolfwood had to say goodbye to one of our gentlest souls this week, Kodiak. Over the past few weeks it became clear that Kodiak's age was starting to catch up with him, as he had more and more trouble getting up and moving around. He passed on surrounded by people who loved him and his pen mate Jill lying by his side.

Kodiak was well known as having the best smile at the refuge, as well as one of the sweetest demeanors. He quickly became one of Wolfwood's prime ambassadors after his arrival in 2014. Over the years he has attended most of Wolfwood's events, and been pet by thousands of people. He was a fan favorite everywhere he went with his striking colors and size. Anyone who wanted to pet an animal could pet Kodi, including the smallest of children, disabled, and elderly people.

His story is one of resilience, and has always been one of my favorite stories to tell at the refuge. Kodiak and Jill came from a place claiming to be a dog sanctuary in Washington state. What the owner of the "rescue" was really doing was collecting money from doners online, and stacking dogs in crates in a warehouse. Eventually someone was able to get a picture of the conditions the dogs were living in online. There was an outcry against the place now dubbed the "Sanctuary of Sorrows" and in a panic the owner loaded up half the animals into a semi and started to drive south. An organization in New York called the "Guardians of Rescue" managed to contact the man and broker a deal with him. He left the trailer in Kingman, Arizona where the dogs were unloaded, triaged, and sent to other local vets. Wolfwood got a call that there were two wolf dogs in the trailer and Paula agreed to go down and pick them up. When Paula got there Kodiak immediately jumped in the truck, seeming to say, "I don't know where I'm going, but I know where I've been." His pen mate Jill took longer to warm up.

Wolfwood was concerned that the mental damage caused by the conditions they came from would be irreversible. However, within two weeks Kodiak and Jill were loving life. They loved each other, they loved Wolfwood, and most remarkably, they loved everyone else too.

Kodiak has always been a fast friend of volunteers who come to the refuge. My first time at the refuge I was told he and Jill would be a pen I was "guaranteed to get lovin in." It didn't take long for me to claim Kodiak as a favorite.

Kodi has been my best bud at Wolfwood for the past five and a half years. The loss of him has been one of the hardest for me, even though I know he was ready to go. He was my go to companion for lazy days at the refuge, and he never failed to put a smile on my face even on my worst days. He has also been one of my biggest teachers in my time at the refuge. Through sitting with him at events I learned how to better speak to people I don't know, as well as how to be a better advocate for the animals.

His presence will be missed by everyone at the refuge, perhaps most of all by Jill, his constant companion through the worst of times at the Sanctuary of Sorrows and the best of times at Wolfwood.

Kodiak was a low-mid percentage wolfdog who came to the Refuge in January 2014 as a 4-year-old. Both Kodiak and Jill came from the same sordid situation where 130 animals were stacked in airline crates, on top of each other, in a warehouse. The abhorrent details can be found here.

Nothing is known about Kodiak from his time before the rescue other than his age. Fortunately, he seems to have tolerated his time in the tiny crate fairly well and now enjoys spending time with the volunteers at the Refuge. If he is given the choice of food or getting pets, he prefers pets. He definitely loves attention although he prefers to meet one person at a time. If more try to visit at one time, he shies away.



Falcon (2021)


Falcon was the fourth member of the Alaska Nine Pack to leave us. He was mischievous and loved to tease the members of his family. Falcon was 10 and the third member to pass away in the last year. It has been very difficult for all of us to experience the loss of each individual and the loss of the pack as a whole.

Falcon's fulll story as a member of the Alaska 9 is located here.

Storm (2021)


Storm was 14 and lived with Siku, who was also 14 at the time of Storm's passing. Storm lived twice as long as wolves typically live in the wild! Before that he lived with Echo and Pan. He was shy and loving and his sweetness will be missed.

Storm first came to the refuge as a 2-year old in 2009 from the Aztec Animal Shelter. He liked to bark but was very sweet. He was quite active and sometimes a real challenge to catch.

Storm was part of a long-time 3-pack that consisted of Storm, Pan, and Echo. With the passing of Pan and Echo, Storm was the last of the 3-pack to leave us.

Oakley (2020)

Oakley is the third member of the Alaska 9 to pass. When Oakley went in for emergency surgery hope was high, but reality was always in the back of our minds. Oakley gave signs the end was near. The animals always seem to know. 9+ years with Oakley is not enough, but it will have to suffice for those of us lucky enough to have known him. All of Wolfwood feels his loss.

Thousands of people have had the opportunity to meet Oakley. They have petted him, been kissed by him, and even had the infamous wolf rub from him. Oakley was one of a kind. Oakley was the only full wolf who welcomed visitors and strangers alike. Oakley was the happiest animal ever. He was so patient with the public and so loving and so giving. It's no exaggeration to say he's changed so many people's lives for the better. There's hundreds of people that will tell you they've never been the same since they got to interact with him.

Oakley underwent 5 hours of emergency surgery on Dec 4th, 2020 for a perforated stomach.. The x-rays didn't show any foreign bodies however what could be determined required immediate action. So Oakley was prepped for surgery. It took 3 people and 5 hours to find the perforation, fix it, and do everything possible to clean the cavity of the digestive contents to prevent infection and peritonitis (lavaging the abdomen). Unfortunatly, at his age it simply wasn't enough.

Oakley joined the refuge, along with the other Alaska 9 wolf pack members, in July of 2011 as a weeks-old puppy. The Attorney General of Alaska had removed them from an illegal operation and they were flown down to the southwest to their new home at WolfWood. Early on, it was noticed that his personality seemed to be a fit for an ambassador animal but we never dreamed that a full wolf would welcome strangers and give love to so many.

When Oakley started going to public events, his affection for people became clear, especially with children. He would smother them in love and kisses to the point that we had to restrict the size of the children who could go in with him. We were concerned his size would hurt the very young even though he didn't intend it. He just loved children. People would stand in line for hours to get to pet Oakley for a few minutes.

Oakley did have a "love interest." It was Trinity. When Oakley and Trinity traveled to events, he insisted that he was next to her in the traveling trailer. If she went somewhere without him, he was not happy. When we lost Trinity, in 2018, Oakley's heart was broken but he did rebound.

In 2018, Oakley had major surgeries for skin growths and tumors. His recovery was so extensive that he couldn't go to events. It couldn't be helped. He had surgeries like this since he was 2 and the condition was chronic. He was getting up in age and recovery was getting more difficult.

Oakley continued to meet visitors at the refuge. He was home, he was happy, and he was having a blast. In the back of our minds, we knew this was the best of times as he approached 9 years old. That is well beyond the life expectancy of any wolf and at the end of the life expectancy of any canine that size. 

As 2020 progressed, Oakley was relaxed. He had additional surgery for continued skin issues and hated the medications. But he recovered. With limited visitations and no public events, volunteers made the best of the situation and got to spend huge amounts of quality time with Oakley

Oakley's history as Alpha of the Alaska 9 is located here.
Sable (2020):
Akayla (2020):
Moki (2020):
Echo (2019):
Sam (2019):
Justice (2019):
Finn (2019):
Nikki (2019):
Aldo (2019):
Sheba (2018):
Tavi (2018):
Trinity (2018):
Orley (2018):
Kohl (2018):
Rukai (2017):
Rowan (2017):
Sawyer (2017):
Mojo (2017):
Ghost (2017):
Pan (2017):
Kewa (2016):
Piper (2016):
Phaedra (2016):
Avalanche (2016):
Sita (2015):
Cinder (2015):
Juno (2015):
Rufio (2015):
Ria (2015):
Ranger (2015):
Minnie (2015):
Topaz (2014):
Athena (2014):
Skyla (2014):
Nova (2014):
Adama (2014):
Little Timber (2014):
Nokomo (2014):
Lakota (2014):
Bo (2013):
Tacoma (2013):
Zion (2013):
Inepae (2013):
Johnny (2013):
Noche (2013):
Misty (2013):
Big Timber (2013):
Kia (2013):
Casey (2013):
Ateria (2012):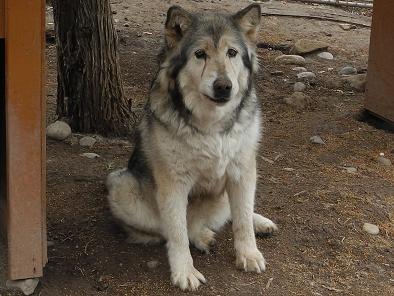 Ateria was one of the senior, long-time members of the Wolfwood family and was 16 years old. She came to Wolfwood in March of 2002 from a shelter in N.M. when employees called us instead of putting her down. She was shy and would not come up to people but would watch warily from a distance. She loved to dig dens and lived with Saber and then Johnny and was dominate with both. We will miss her sweet face.


Atlas (2012):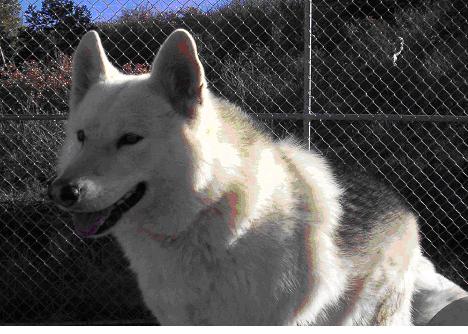 Atlas came to us with Phaedra, in 2004 from Gunnison, Co. They were starving when they were caught by animal control and brought to Wolfwood. They got their names because the Greek Olympics were going on at the time. Atlas was very friendly and loved everyone. He was an active and strong animal but loud noises scared him and he hid under his doghouse if scared. His penmate, Phaedra, guarded him if she thought there was danger. He was 12 this year and developed inoperable cancer. When he lost all his hair and was very uncomfortable we decided he had been strong enough. Phaedra misses his happy personality and she will get a new friend in a few weeks.

Bruno (2012):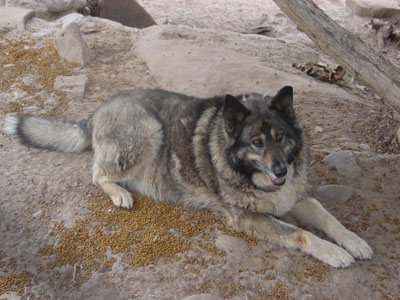 Bruno was a gentle giant and a favorite here at the refuge. He was a big, strong affectionate animal who loved everybody and looked forward to children coming to visit him even at the end when he was hurting. Bruno was 13 and already had one operation to help his cancer. He had lived with many different animals since he came to the refuge in March of 2002 and most recently Trucker. His smile and heart will be missed.
Dominoe (2012):

Domino was the last of our original 9 pack that came to the refuge in 1997 and was 16 years old. He lived with Trinity at the end of his life and was stressed to be separated from her because of her hip surgery. He was submissive to his pack members but would always defend Trinity. He would bark at strangers and did not like to be petted unless you gained his trust and he knew you well. We mourn his loss and the loss of the last animal of the beginning of it all.
Heidi (2012):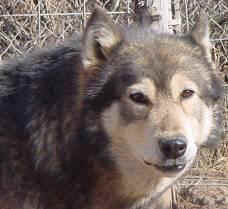 Heidi was born at the Refuge when we were in Pagosa. Her mother came in pregnant at a very old age and died before Heidi was a year old. Two of her siblings have already died from complications of dwarfism. She and her brother Casey lived together their whole lives and never really liked to be touched by people. Heidi died on a winter evening. Her brother, Casey, now lives with Kia.
Isis (2012):

Isis was our oldest animal at almost 17 and came to the refuge with two other animals in the summer of 2005. Her owners were getting divorced and didn't want the three animals anymore. She was the last of her original pack to be still with us. Isis was extremely shy and one of the more elusive members of the Wolfwood family. She lived happily with Smokey, Topaz and Chica but was still the boss even at her advanced age. She died in her sleep one night. Her family will miss her.
Nomad (2012):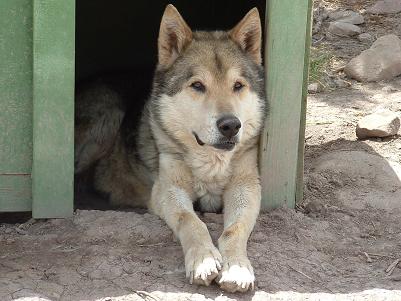 Nomad was 13 and came to the Refuge during November of 2004 from the Aztec shelter as a 5-year-old adult. Before he came to the Refuge, he had been catch-poled on two sides and was dragged until he bled. He had been on a chain his whole life and was in shock and extremely disoriented when he arrived. But, with time and patience he adapted to his new home and finally warmed up to people. Nomad was a big, strong, handsome animal and was protective of his food. He would sometimes come up to visitors at the fence, but, if he let you pet him, he would be very particular about where you pet him. He did not mind being petted along the lower part of his back but he did not like to be touched towards his neck. Nomad lived with Tika. He had a bad heart condition and Dr Wagner said it would be a kindness to let him go. He was a rough and tumble guy and left us enjoying a big juicy bone until the very end.
Red Dog (2012):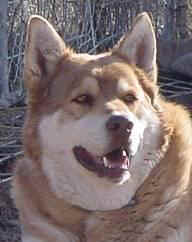 Red Dog was a sweet, goofy guy who always had a big grin on his face. He came from the Ignacio area. Someone bought him on the Internet for $800 because he was a "red wolf". Red Dog was a big, fat Husky, without an ounce of wolf in him, but we all loved him anyway. He wanted belly rubs and food! He developed severe arthritis. On the night he died there was an amazing red sunset, a final farewell from our friend.
Simone (2012):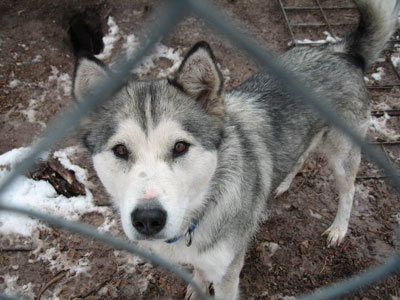 Simone was very shy and did not like to be touched. She lived in California with another animal named Mozart. In 2000, Mozart was flown to Wolfwood but Simone was flown to a person in Philadelphia. However, her new owner had a heart attack shortly after Simone arrived so she was flown to Denver where we picked her up.
Simone was 16 and had cancer. Eventually she had great difficulty getting up and moving and she would have frozen to the ground in that condition as the winter set in. She was ready for her passing, even if we weren't.
Tonka (2012):
Tonka was the eldest member of the Wolfwood family. Tonka and her brother, Buddy, were our first official rescue in 1998 when we got them from another refuge in Chino AZ where they were not doing well. They were very thin and had not been touched in 6 months. Tonka was an alpha female who loved everyone and was friendly and outgoing. Her brother, Buddy, was very shy. Tonka was our first ever ambassador animal. When Buddy died in 2006, Tonka was inconsolable, howling most of the day. We could not pair her with another of our adult animals due to her alpha personality. Ultimately, we got Kohl, a dog puppy, from the humane society. Since his arrival, Tonka had been much happier although she was sometimes confused by his doggie ways. Tonka succumbed to the effects of age and cancer.
Few animals have touched as many lives as she has. More then anyone else, she helped make WolfWood into the special refuge that it is. She shaped and shared our dream. Tonka, you are loved and missed. Rest and run with your brother.

(Read more of the story of Tonka and Buddy in our July 2012 newsletter which can be found here.)
Zia (2012):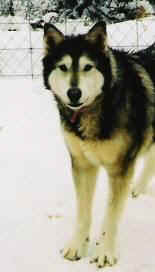 Zia was part of a coordinated rescue between the Ute Tribe, La Plata Humane Society and WolfWood in 1999. She was one of the 30 animals taken over two years from an extremely bad situation here in the Durango area. She had Parvo as a puppy, and had some residual damage because of that. She lived to be 14. She was Silver's pen mate who passed late last year. She was the last of the "Shannon" group. While never an animal that would let you close, she had a long life here at WolfWood.
Anis (2011):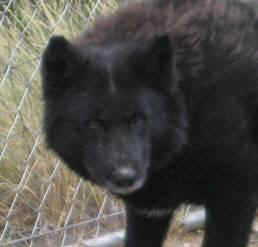 Anis came to us from Farmington NM. She was in a very bad situation there. She was always shy and submissive. After her sister died, Anis went to live with Inepee. She was very happy with him until she passed away at the age of 10. Her sweet face will be missed.
Bronte (2011):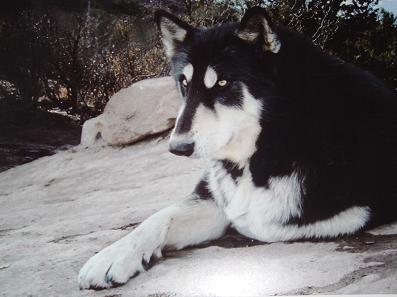 Bronte's death was an especially hard one for all of us at WolfWood. Many of you have met Bronte at one of our events. He was one of our most beloved ambassador animals. Known as the "gentle giant," he loved nothing better then to be surrounded by children. Bronte made a difference in the lives of hundreds of people, young and old alike. Diagnosed with kidney failure almost two years ago, Bronte improved with a special diet, IV's of fluid and great care by Dr. Wagner of Bayfield Animal Hospital. Still, we noticed a difference after losing the love of his life, Cassidy.
Bronte came to us after he was picked up by the Pueblo Humane Society when he was found running loose. He was, by far, the largest member of the Wolfwood family. However, that size ended up taking a toll on his kidneys as he got older.
Bronte became an Ambassador for Wolfwood almost immediately. He loved children and loved the attention associated with being the center of an event.
While Bronte was a very large animal, he had some interesting tendencies. He did not like cowboy hats and would back away when he saw someone wearing one. This may have been due to his handling before he came to Wolfwood.
Bronte also had his particular likes and dislikes while traveling in his Ambassador role. When staying somewhere away from Wolfwood, Bronte had to have a clear line of sight to wherever Craig and Paula were staying. He didn't need to actually see them but he had to see the door of the place where they were staying. On one trip it wasn't physically possible for Bronte to see the door of the house even though Craig and Paula could see Bronte through a window. Bronte howled and howled until Craig came out to assure him that they were still there. Bronte wasn't satisfied, and when Craig went back inside, he began to howl again because he couldn't see the door. Craig came out and slept in the truck with Bronte so he would feel better.
We were fortunate to have several weeks with Bronte to say our goodbyes. Lavonne sat with him, and he was surrounded by friends as he passed. We miss his beautiful spirit, but take comfort in knowing he is with Cassidy again.
Navarre (2011):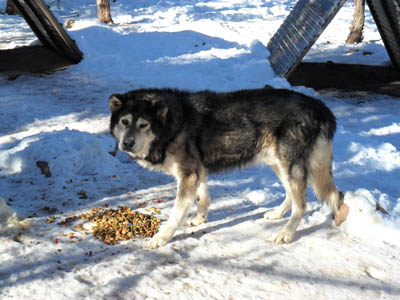 (From Paula) Navarre's death was one of the most difficult for me personally, and also one of those special transcendent moments that shape who we are. I was there when Navarre was born, on a dark and cold winter solstice night, 15 years ago. He was one of my original nine pack, and the start of my work in rescue. I was chosen as his special person right from the beginning, and Navarre went almost everywhere with me until he took over the alpha position in the pack after Winslow, my first ever wolf/dog, died. Navarre went down one night and couldn't get back up. I laid next to him in his large, A-frame dog house, under a sky filled with brilliant stars. I talked to him, sang to him, and rubbed his majestic head. In the end, I just held his big paw in my hand. Navarre knew I was there, and I believe it gave him comfort with his last breath, just as it did with his first. We had a special bond throughout his whole life, and it will stay with me throughout the rest of mine.
Navarre was one of the original 9 members of the Wolfwood pack. His father, Winslow, was the undisputed alpha of the pack.
Navarre was one of the first Ambassadors for Wolfwood and enjoyed his role for many years. As he got older, Navarre turned over the reins to other animals and enjoyed spending his time with Dominoe (of the original pack) and Trinity, a new addition.
Navarre inherited some characteristics from his father regarding leadership within the pack. While his father was alive, Navarre always made sure that the younger members of the pack were allowed their fair share of the food. However, he wasn't a push-over for these youngsters. He had no problem letting a younger member know when they were out-of-line regarding their behavior around the older pack members.
As Navarre's father aged, some wolves tried to take the alpha role, especially after his father had a stroke. However, Navarre did not let this happen. Navarre would not allow any other wolf to eat before his father, even though his father could not physically hold the alpha role. If another animal tried to eat first, there were severe consequences from Navarre. Needless to say, the other pack members quickly learned who the next alpha was and who they would listen to. Navarre made sure his father got the respect he deserved until the day his father died.
But Navarre also had patience that would surprise people. At one event at a Humane Society, a small dog got loose and started biting Navarre on his backside. The Wolfwood volunteer had Navarre on a leash but if he wanted to go after the small dog, it would have been an issue. Navarre just looked at Paula with an expression that said "Is this little dog kidding me?" Fortunately, the little dog was put back on a leash and taken away. Navarre went on his way with his continued role as Ambassador for Wolfwood at the event.
His leadership qualities, confidence and personality will be missed.
Saber (2011):

Saber died at 13. He came to us from Utah. Knowing there were safe places for animals like Saber, animal control officers did not want to put him down. After contacting us and getting the go ahead, Best Friends offered to transport him here. He flew in a Piper Cherokee into Durango airport. He lived happily at Wolfwood, with his friend Atirea, for 10 years. Saber was an active and strong animal even after his surgery, but eventually he succumbed to cancer.
Silver (2011):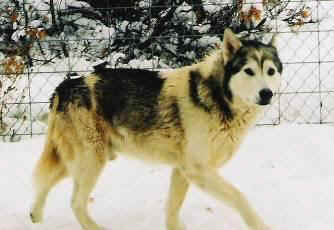 Silver was part of a coordinated rescue between the Ute tribe, La Plata Humane Society and WolfWood. He was one of the 30 animals taken over two years from an extremely bad situation here in the Durango area. He had parvo (a contagious canine virus) as a puppy, and had some residual damage because of that. He lived to 12. Silver never socialized well, although we tried. Liz Morris spent many hours with him when he was younger. He lived with his sister Zia, who is the last of the "Shannon" group. While never an animal that would let you close, Silver was a brave example of survival against the odds.
Cassidy (2010):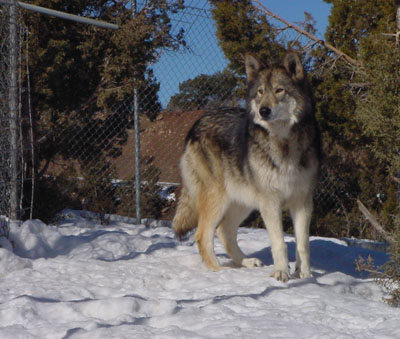 Many of you had met Cassidy, either in Estes Park or at one of our other events. She had been a premier ambassador animal for years and had literally been petted and photographed by thousands of people.
Cassidy came out of a meth house in CA. She and five other animals weren't just chained; they were all chained to each other and fed only unopened cans of beans. Officers went in, guns drawn, shut down the drug house and confiscated the animals. An organization in the area raised money from local citizens to help get the pack to us. We had to bolt cut their chains off. Cassidy could not even lift her head, her neck muscles had atrophied and she was completely emaciated. Our first job was to physically rehabilitate the pack. This took months, but soon they were all living happily in their large enclosure, able to move freely for the first time. After a few years the alpha male, Cassidy's brother, died of bone cancer contracted where he had been repeatedly kicked. The pack fell apart and had to be separated. Cassidy lived next to two former pack members but was by herself until Bronte came. Cassidy suffered from seizures which were under control with medications for a long time. She finally had a seizure she could not recover from. Even though we rushed her to the vet and tried our best, we could not save her. Cassidy was very special, and there are no words to describe the breadth of our love or the depth of our sorrow over Cassidy no longer being part of our lives. Bronte was with her till the end. We hold her memory in our hearts and miss her every day.